Robert Fernandez
Biographical Material

---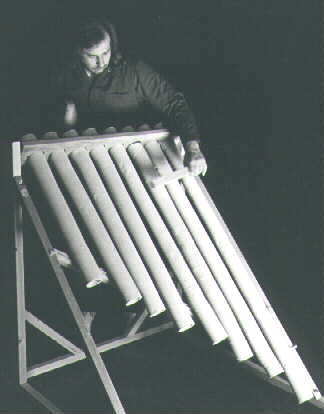 Percussionist Robert Fernandez (b.1953) has been involved with contemporary music since the early 1970's. He has been a featured artist on the Monday Evening Concerts series in Los Angeles, the Ojai Festival (with Lukas Foss), the L.A. Philharmonic New Music Group, the Independent Composers Association, Contemporary Concerts Inc. in Chicago, the John Cage Retrospective in Santa Cruz, California (with John Cage), Composers Choice Series, and since its beginnings in 1976, the CalArts Contemporary Music Festival.
With fellow percussionists Arthur Jarvinen and M.B. Gordy he co-founded the Antenna Repairmen in 1978. That group quickly established a reputation for innovative and virtuosic performances of works that combined percussion, poetry, and theater. The Repairmen continue to perform in the Los Angeles area, and recently released GHATAM, their first compact disc, on M.A Recordings. This unique work features handmade ceramic instruments designed and built by sculptor Stephen Freedman.
Fernandez has worked closely with many leading composers, including Jacob Druckman (west coast premiere of Animus II), Morton Feldman, Charles Wuorinen, Mel Powell, Neville Mariner, Earle Brown, Pauline Oliveros, William Kraft, Lou Harrison, John Adams, Frank Zappa, Harvey Sollberger, and Donald Erb. He has toured with the Erik Hawkins Dance Company, the CalArts Twentieth Century Players, and was invited to perform at the American Dance Festival in 1980. He was a member of Daniel Lentz and Group, and from 1986 through 1989 was on the performance faculty of June In Buffalo. He has been a guest artist with the California EAR Unit on several occasions, including the American premiere of Karlheinz Stockhausen's music/theater work Musik im Bauch.
In 1987 Fernandez received an N.E.A. Consortium Commission Grant for composers Robert Ericson, Joel Chadabe, and David Felder, and fellow percussionists Jan Williams and Michael Udow. He has recorded for Angel, C.R.I., Pasha, M.A Recordings, and CBS Records.
Robert Fernandez's musical expertise is not limited to contemporary art music. He is in demand as a studio musician for film, television, and recordings, and toured for three years with the Barry Manilow band. He has a longtime interest in Afro-Cuban folkloric music, and has studied with several of the genre's most noted practitioners. He is currently compiling a book on the subject.
Robert Fernandez


Leisure Planet Music